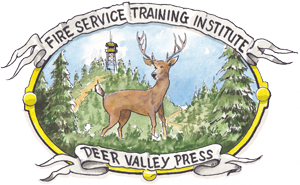 Deer Valley Press firefighting publications are sold directly through International Fire Service Training Association (IFSTA) at 888-977-1635 or visit ifsta.org.
Hubie Pictures Books & Video
Firemen, Fire Wagons and Fire Horses
Thirty years as an active firefighter and twenty more staying active with his horse drawn steam fire engine doing public service events, Dave Hubert felt compelled to share his love for fire service history. Beautifully illustrated by Dave, FIREMEN, FIRE WAGONS, AND FIRE HORSES brings that rich history to us through many original watercolors depicting the dawn of professional firefighting. 

Address
Fire Services Training Institute
Deer Valley Press
PO Box 550
Santa Barbara, CA 93116